Between Park and Cave.
Facts: University Project at the ETH Zürich | Chair Christian Kerez | 2003.
Architecture: Wolfgang Rossbauer.
In Zurich`s provincial suburb of Affoltern - on a 30,000 square meters site - three strictly geometric volumes, relating to the significant 1960's buildings of Affoltern in height, are situated in an artificial park. The volumes form a relationship to the surrounding trees and - with their interiors like caves - to themselves. This project works with structurally similar themes to my previous project; the spatial character, however, is different in every respect.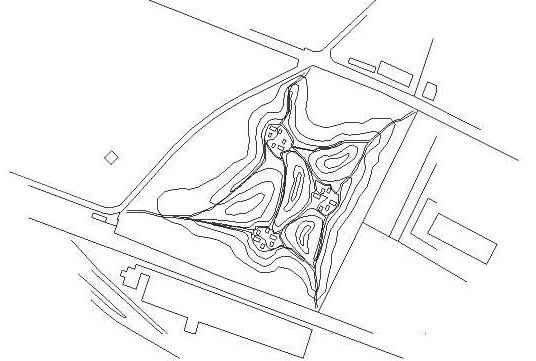 Each building`s structural idea is a pragmatically intended system of six bearing installation and development cores; they support two of the four corners of a quadratic field. The other corners are formed by geometric terraces in the floors - defining on the one hand a reasonable structural system, on the other hand a spatially determining relief. The inter-dependence of two alternating floors draws immediate attention to the presence of the apartments above and below, the cast of spaces is visible and perceptible in the concrete form.
A line of walls separates each floor into two apartments. That line incorporates the cores in such a way, so that it seems to be an endless, sculptural contour. The structural order becomes blurred, no longer legible (contrarily, the structure is clear in the entrance floor, but the relief unintelligible). These so created internal and peripheral rooms follow an archaic principle: The glass corners allow an outside view into the building, defining the public space. The "caves", winding into the center of the building, become a place of withdrawal. Here, a view out of the apartment is only possible into the trees; that view excludes the other buildings.
The result, an inhabitable landscape - striving for a maximum of expansion into itself - becomes an imprint of the inhabitant, an indication of a mode of living. Although the apartment seems to be a noble unique specimen at first sight, it is duplicated like lots of luxurious mass-produced items. A pluralistic coexistence of individual demand and mass-culture of a specific way of life is imposed on an exaggerated field of tension.


Floors A and B alternating